Get ONE- ONE VIP Support!
1. Factory Direct Suply 2. Reliable Product 3. Competitive Price 4.Timely Delivery& Service JIUHE,China National Grade High- Tech Enterprise, invites you to get a quote now!

Learn more
JHZ5042JGKJZ Aerial lift truck, also called high altitude working truck, 21M reached with max. load 200KG.which provide safe access to inaccessible areas at height.so it's widely used in sectors: public lighting; roofing and gutter cleaning; building construction and maintenance; industrial installations; safety inspections; window washing and repair; orchard and tree surgery; electrical line work; events and entertainment installations.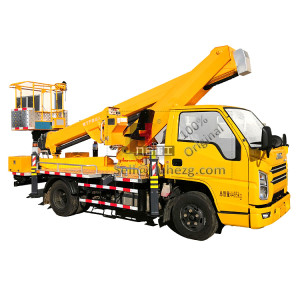 JIUHE 21m Aerial lift truck, widely used for man lifting for high altitude operation work and so on.
Get Insider Information About Exclusive Offers, Events And More!
Fill information to try JIUHE quality machine and start your VIP trip, enjoy JIUHE professional support from NOW!
If you are interested in becoming a JIUHE distributor or Dealer, just fill our contact form, and a member of our team will get in touch with you soon!