Get ONE- ONE VIP Support!
1. Factory Direct Suply 2. Reliable Product 3. Competitive Price 4.Timely Delivery& Service JIUHE,China National Grade High- Tech Enterprise, invites you to get a quote now!

Learn more
On the basis of
mature eLectric commutation concrete pump production, after years of efforts,
we developed Truck mounted concrete line pump with better performance. By
improving main system pressure, reducing pressure loss, making normaL truck
mounted concrete pump outlet pressure increased to 22MPa, pumping height reach
260m, pumping efficiency up to 120m3/h. power system with high-usage rate,
commutation time 0.2S, reducing concrete output pause time, each minute
commutation frequency improved by 2 times. If interested, don't hesitate to
contact us.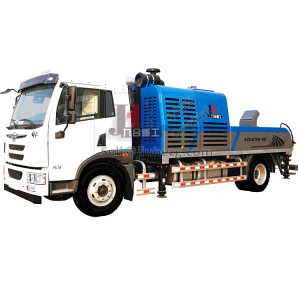 JHconcrete line pump with 100m3/h , specially used for high concrete pumping project, max. can reach 240m height.
Get Insider Information About Exclusive Offers, Events And More!
Fill information to try JIUHE quality machine and start your VIP trip, enjoy JIUHE professional support from NOW!
If you are interested in becoming a JIUHE distributor or Dealer, just fill our contact form, and a member of our team will get in touch with you soon!